ATTENTION: Would you like to offer to drive someone to the Annual Convention or share the costs of a hotel room? Do you need these services? If so, visit http://www.illinoisnaacp.org/id20.html.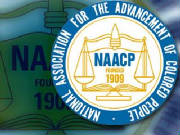 Welcome to our website!
From the ballot box to the classroom, the dedicated workers, organizers, and leaders who forged this great organization and maintain its status as a champion of social justice, fought long and hard to ensure that the voices of African Americans would be heard. For nearly one hundred years, it has been the talent and tenacity of NAACP members that has saved lives and changed many negative aspects of American society.
The National Association for the Advancement of Colored People is the LARGEST and the OLDEST, the BADDEST and the BOLDEST, the MOST LOVED and MOST HATED, the MOST FEARED and MOST REVERED, the MOST CUSSED and the MOST DISCUSSED Civil Rights organization in America.
Proviso West Suburban Branch NAACP Executive Board meets the 4th Tuesday of each month at 7pm. The General Membership meetings are held on the 4th Saturday of each month at 11am.