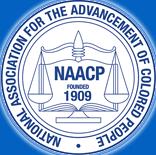 FIVE REASONS TO JOIN THE NAACP!
1. The fight for freedom is not free! Your membership will help fund initiatives and programs to support our mission of racial equality and equal justice

2. A membership in the NAACP is your opportunity to give back to the organization that has done more to change this country for the betterment of people of color, women, and the disenfranchised than any other in the nation's history

3. Your membership in the NAACP makes you a part of a force of 300,000 people who stand for the freedoms guaranteed in our nation's constitution

4. Your membership in the NAACP makes a direct and positive impact in your community when you join your local Unit

5. Your membership in the NAACP will give you access to our upcoming benefits program that provides discounts on products and services across the country

Join today and become one of the hundreds of thousands of NAACP Freedom Fighters across the globe! The work of the Association - equality and justice for all - depends on the support and participation of caring and progressive individuals like you. A stronger NAACP with a larger, more active membership is the best hope for protecting our freedom and advancing our rights.
Mail completed membership form to:

Attn: Membership
Proviso West Suburban NAACP
40 S. 19th Ave.
Maywood, IL 60153